Striking under saddle with natural collection, quality and presence.
Big and athletic, super soft to ride, true snaffle mouth, naturally balanced, easy extensions and outstanding agility, with the kind of canter you want to ride on all day. His breaker described him as a "Ferrari".
Great willingness, bold across country, calm under pressure and a super cool attitude that will change your mind about Thoroughbreds. Absolutely no cold back. A real people horse.
All of this comes naturally, indicating a strong genetic heritage which he passes on to progeny.
From very limited outings, Splashdance was First ASH Led Colt, Adelaide Royal 2000. At Mt Pleasant Agricultural Show 2001, judged by Barry Sawyer, he won led, maiden hack, hack over 15h, stallion hack, and Champion ASH Hack from very strong competition. In the Championship he worked onehanded with flying changes amidst the oncoming Grand Parade, scarcely missing a beat - and at only three years of age!

Splashdance has been shown in 2008 by his breeders for Champion ANSA Mt Gravatt Show QLD.
Ideal for breeding Anglos, Paints, Warmbloods, polo ponies, high level dressage horses and hacks.


Progeny from unregistered mares may be ASH registered. Frozen semen available.
Progeny of Splash have won at ASH Futurities (led and under saddle), in working classes, ASH hack and open hack classes, showjumping and are also successfully competing in eventing, dressage and polo. They have been used for mustering and in feed lots, as well as general leisure and farm work riding.
---
Sire: Silver Laird
[Lord Silver Man (NZ) - Rossolete (by Ross)] Gr 16 h 1986-2003.
| | | |
| --- | --- | --- |
| | | Winner of 10 races, 1200 - 1400m. Brisbane Royal 1995 Supreme Led ANSA, Brisbane Royal 1996 Res Champion ASH, Supreme Led TB, Res Champion Ridden Horse ANSA. |
Inbred to Hyperion. Combines bloodlines of Tudor Melody, Blue Peter, Alycidon and Coeur Volant. The dam of Ross is a full sister to Ribot. The Tudor Melody line has been used previously at Chalani in the polo pony line of Dunwell Tudor Tinker, through Fintona Artist. Silver Laird was campaigned for four years and competed at 40 shows in South East Qld, both led and under saddle. He was noted for his unflappable temperament. After his big wins at Brisbane Royal 1996 he was retired.
---
Dam: A Riot In Paris
[Nightfall (Romanda x Even Song) - Waikopua] Br 15.2h 1981-2001.
| | | |
| --- | --- | --- |
| | | A Riot In Paris won many Supreme and Champion awards in led and ridden ASH, Hack and TB Classes, always reliable and giving the smoothest ride. Used many times for Champion Rider horse, and won three Callamondah Cups. |
Combines bloodlines of Pipe Of Peace and Midstream. This cross has produced Drawn, renowned sire of polo ponies for the Haydon family. Midstream blood features in Australia's greatest polocrosse sire Edenhope Sam. Even Song is a daughter of one of Australia's greatest mares, Melbourne Cup winner Evening Peal. Romanda crossed with the Rannock line produced for the Gowers the successful and very attractive ASH and dressage horse Chalani Midspin.
Dam of:
First foal "Riverdance" (by Italian Opera) Br 1993 15.2h
Won numerous Champion and Supreme hack and led awards, including:
1997 runner up New Hack Star of the Year.
Top 10 NSW Open hack. 98
Carried owner to 2nd place Open Lady rider, 98 Brisbane Royal.
1999 Brisbane Royal placed led and hack.
1999 Hack Council, Intermediate Hack of the Year and Small Hack of the Year.
6th Hack 15-15.2hh Melbourne Royal 2003
Top 10 Hack SA Horse of the Year on several occasions
Second foal
(by Silver Laird), Br 1996 colt, unnamed, placed led TB class at Brisbane Royal 1997, only show.
Third foal
"Splashdance" (by Silver Laird), 1997 Blk colt.
Breaker, John Broadbent said of Splashdance as a two year old:
"He had the balance right from the start. The others of that line I have broken in are exactly the same. They don't hang in around corners, they are correct straight ahead sorts. I galloped him to 3/4 pace and you just ask him up a couple of strides and he stays at that pace until you kick him up some more. And he calms right down and you can throw the reins away.

It is too easy to forget he is a young horse because everything he does so kindly. He is very comfortable. I have never ridden a young horse with such natural balance. It is like driving a Ferrari - he doesn't lift, he drops behind and drives on. You don't get too many like him."


Fourth foal
"Festival"
(by Silver Laird), 1999 Bay filly. (ASH Name "Paris Lilly")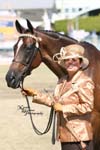 Supreme Champion Hack Toowoomba Royal Show 2007.
1st Open 10 Stone Hack Brisbane Royal 2005
Supreme Champion Led TB Brisbane Royal 2005.
Numerous other Royal Show Hack wins and Champion Led awards.
Read Horse Deals Tribute to a Champion on Festival.
Fifth foal
"Ellerslie Vienna" (by Silver Laird), 2000 Br filly. Sold to well known ASH member Dianne Newberry.
---
Splashdance Pedigree & Progeny bred by Chalani ASH: