Chalani Sunstream stands at stud with a service fee of $1000. Live cover or frozen semen is available in Australia (frozen semen stored at Goulburn Valley Equine Hospital). To book a mare, visit our contracts page. Frozen semen is also available in the USA (please email for contract).

Sunny has the potential to be a very useful sire of polo & polocrosse ponies, jumping horses and working stock horses. He will certainly suit show enthusiasts as he is of quality stock horse type. With short cannons, deep girth, strong hindquarters and an overall muscular structure, his lovely length of rein is finished off with a pretty head and small ears that are typical of the Master Herbert stock. Sunny is not without great movement too. He gallops low to the ground with a great over tracking walk and plenty of expression in his ground covering trot, with very consistent rhythm.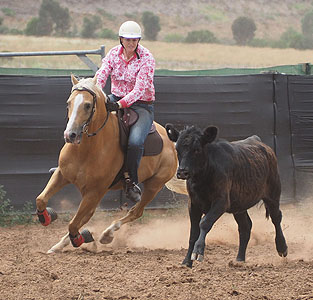 Chalani Sunstream (Sunny) was produced after a careful selection of a complimentary outcross stallion for his dam Yooroona Rapids. His dam is a mare of excellent stock horse type sired by Master Herbert and is a very good do-er. She was leased from Christine Roberts of Spalding, who was the breeder/owner of Master Herbert (by Rannock), sire of Chalani Giselle and Chalani Minerva amongst others.

Chris' son Scott Roberts, is playing Rapids in his A-grade polo team. Scott says she is light to play and gallops smoothly over the ground. Chris says of her 2013/2014 polo season "Rapid had a great polo season and finished fit and strong and mentally good. Her first week off from polo she had a lovely trail ride around the roads. It was well worth not hurrying her. She has plenty of everything needed. Scott's season varied from A to C grade which is also hard on horses and she coped well with the changes". Rapids has also proven useful working cattle on the farm.

Rapids' dam is the TB mare Expressa by Green Line Express. Expressa was shown as a hack in Tasmania under the name English Rose. She was then used by Margot Maitland at Willowcroft Stud (Claire, SA) to breed a foal that we are told has hacked with success. Expressa has continued being used as a broodmare by Chris and Scott Roberts. Her pedigree contains two crosses to the famous racehorse Star Kingdom

Sunny's sire is the young cremello stallion Tintaras Chandra, who was bred in WA by Janet Forster before being sold to "Horses of Gold" (Leanne Owens) in QLD. Sunny is one of his first foals. Chandra is bred on mostly TB bloodlines making him ideal for siring jumping & dressage horses, show hacks and of course Australian Stock Horses with speed. In 2013 Chandra was exported to Japan, after the Japanese owner's world-wide search for a suitable dilute stallion. Chandra is one of only a few ASH stallions exported internationally. He was purchased to be put over high class TBs for the breeding of International-standard show-jumping, dressage and eventing horses. His sire line is through Waveney Goldbine, one of the 3 best known palomino lines in Australia, well known in his era amongst show jumpers.

Chandra's pedigree contains three crosses to the palomino stallion Nantambo Gold Shine. Gold Shine is by Waveney Goldbine, a top palomino SA performance and jumping line sire, by Melbourne Cup winner Comic Court. Waveney Goldbine is the sire of Nantambo Gold Shine who in turn sired Kirby Park Nantamboo, owned by Olympian Megan Jones. Megan has used this stallion to sire top class eventers.

Also appearing twice in Chandra's pedigree is Nantamboo Jessica. This ASH mare was a multi Champion both in hand and under saddle. She was two times winner of the Prince of Wales trophy for High Point All Round Stock Horse of Australia, 3 times High Point Stock Horse Hack of Australia, High Point Junior and Senior Palomino of WA etc. She is the dam of Tintaras Callisto who was a Perth Royal Show Supreme Champion led palomino and is Chandra's grandsire on both sides of his pedigree.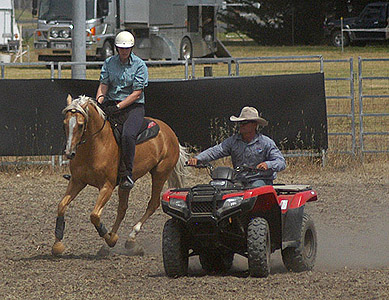 Sunny is a quick learner and gentle natured. He is a strong style of stock horse type standing at 15.1 1/2hh (Adelaide Royal measurement March 2015). Jeanette Gower describes him as a "palomino version of Rannock". He is a very 'true' gold palomino, with lovely coat irridescence.

In March of 2013, Sunny was started under saddle by well known Victorian horseman Colin Byron. Col used him as a demo horse at a 'colt starting clinic' where he showed his breaking procedure with Sunny. Col described him as "a beautifully soft horse to ride, with great length of rein and a great type. I love him." Col did 5 weeks of riding with Sunny before he was spelled.

Photos of Sunny being broken in can be viewed on the Photo Gallery page.

Sunny has been shown very successfully in ASH and Dilutes Australia classes, with a highlight being Champion Novice Hack at the ASHS National Show as a 4yo in 2015 (see video) under judge Lindy Walker.

He was the winner of the ASH 4yo Maturity at the ASH SA State show in March 2015.

He had multiple Supreme Champion wins at Adelaide Royal 2015 - Supreme Champion Led ASH (judge Larry Cutler from Victoria), Champion Ridden ASH, Supreme Champion Led Dilute, Supreme Champion Ridden Dilute (winning Champion Ridden Dilute, Champion Dilute Hack and Champion Best Educated Dilute, as well as 1st Pleasure horse) under QLD judge Cherie Devenish-Edwards.

He was High Point Horse of the show at the Dilutes Australia National Championships, Easter 2015 at Murray Bridge, winning multiple Champions led and ridden including Supreme Led Palomino. He was 1st and 2nd in the Prep and Prelim dressage tests, with the highest percentage on the day (72%).

He has won back to back Supreme Led and Ridden Dilute at the Dilutes Australia SA State Championships in 2018 and 2019. He won the Led Supreme of Australia for the video Dilutes Australia competition from all state winners in 2018 (the ridden video unfortunately corrupted and due to rider injury was unable to be re-filmed before the due date). At Strathalbyn Campdraft 2018, Sunny scored 86 in the first round of the Sunday Maiden draft (personal best score for his rider at the time). He had not seen a cow for 12 months. At Strathalbyn Campdraft in Feb 2019 he was placed 3rd in the Novice draft. At McArthur Campdraft in March 2019 he was placed 6th in the Ladies draft.

He has been very well behaved at all shows with many judges and competitors commenting on his good manners and calmness.
He continues to impress with his great attitude and provides a very nice ride.



Select a video from the menu options within the video frame.

View a full pedigree with photos on the All Breeds Pedigree Website.