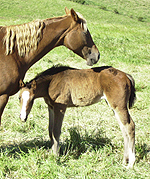 Trivia has been retained by the stud and has been a successful competition mare.
Trivia has lovely movement, is light and responsive to ride with a big extended trot and huge overtracking walk. She is a genuine allrounder. Trivia has been used for Tent Pegging, Cattle Work and Polocrosse practices, is a maiden campdraft finalist, qualified for the Adelaide Royal Show in hack classes, won in show hunter and working hunter classes at Ag shows, done combined training competition days, been a Supreme Champion winner led and under saddle in ASH events and placed at the National ASH show in 2012. She is easy to pull out of the paddock and just hop on.

Trivia has attended Adult Riding Club, learning to show jump and showing ability in novelties. She was the Champion (High Point) award winner at the Strathalbyn Adult Riding Club gymkhana 2011 and won and placed in hack and novelties at Police and Emergency Services games events.

Trivia went to the ASHS National Show in Tamworth, March 2012. She was placed 3rd in the Preliminary Dressage and 4th in the Hack Mare in English Attire, over 5 years.

At the March 2012 SA State Futurity / Maturity Show, Triva was placed 2nd overall in the 5yo Maturity (led, hack, working, time trial) and 2nd in the Open Challenge (Working, Utility, Barrel race, Keyhole race). She was also awarded the Best Led SA bred ASH (1 to 5 years old).

In November 2013 at the SA Central Branch ASH Show, Trivia won Supreme Champion led ASH, Champion Hack, Champion Working and Supreme Champion Ridden ASH against good competition.

Trivia made the finals of the Maiden Campdraft at Fleurieu draft in Jan 2014 (Strathalbyn). She was Champion Show Hunter Hack at Mt Barker Ag show Mar 2014, also placing in the novelty events.

Trivia was Champion Led ASH Mare at the Adelaide Royal Breeds Show in 2014. She was also Reserve Champion Working ASH and won the ASH Ridden Mare.

Trivia is expecting her first foal in 2015 (by Chalani Sunstream).