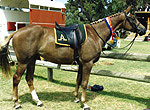 Chalani Aurora has a beautiful head, with lovely big movement, a keen interest in cattle, and a flair for speed events. She was always reliable at even the biggest of Agricultural shows. Aurora was exceptionally willing, gentle and easy to teach. Breaking in was just a matter of putting a leg over and riding off. She later was taught to bow.

Aurora competed under saddle as a late 3yo until shortly after she was put in foal as a 5yo. She won numerous champion led, hacking and working events in ASH competition, including qualifing for the Show Series Finals in all three sections (Led, Hack, Working). In her last season of ASH classes, Aurora won High Point ASH at every show she competed in. She was virtually unbeaten in Time Trial and Barrel Races and super handy and bold at Pony Club cushion polo tournaments. She won Champion hack at Morphett Vale hack show 99 and won at various Ag shows.

At the Pony Club State Championships 1999, in Whyalla, she won and placed in all the novelty events, was 6th in the C grade showjumping, (approx 40 riders) and 2nd in the 'Teams on the Flat' dressage team of four. On top of this she also received the Resereve Champion hack and Reserve Champion rider awards. Her versatility was shown not just in the wide variety of events she competed in at this competition, but through the fact she was successful in EVERY event she participated in.

Probably Aurora's best wins were at the 1998 Royal Adelaide Show. She received Champion led ASH mare, 2nd Working mare and 1st Working ASH, plus 1st Time Trial (her first ever Time Trial). She followed this up with a win in the Time Trial the following year. (Having qualified for and competed in the open hack events during the week).

At the 2000 ASH Central Branch Futurity and Maturity show, Aurora was rewarded with a win in the 5yo Maturity. She won all 4 sections of this event, with a lead of approx 40 points. Aurora was winner of the Rannock trophy in 1999 and 2000, also receiving other High Point end of year branch awards.

Aurora's progeny are proving to be similar in temperament and movement to herself. Chalani Apollo has been highly successful in Australian Stock Horse competition with his junior rider Chari-Lee Hoad. Together they have won High Point Youth at the ASH National Show 2007, numerous Champion ASH Hack and Working awards and Youth High Points. They have also won in Pony Club eventing and jumping competitions.

Chalani Triton was winner of his Yearling ASH Futurity. After being broken in by Gill Rolton, his junior rider has enjoyed training him with the view to competing in eventing and Pony Club competition.