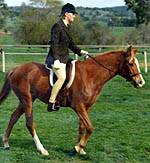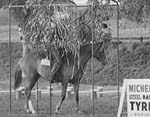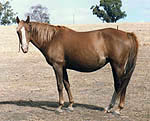 Skelter gained an Award of Merit in Working events, including reining. She was winner of Expo 80 Trail class, defeated only once in a two year career in trail classes. Skelter produced progeny that competed with success in dressage to eventing to ASH competition. Her daughter Chalani Pivot and granddaughter Chalani Chipper are broodmares with Chalani. Skelter has a continuing influence on the stud via her sire son Chalani Pacesetter and grandson Chalani Mystic.

Dam of 13 foals including:
Chalani Pacesetter - Champion A.S.H entire 1986 Adelaide Royal.
Chalani Midspin - A.S.H. National Dressage award winner, 1991 Rannock Trophy winner.
Chalani Frolic - Ridden Champion.
Chalani Caper - 1998 ridden Futurity winner and Champion Ridden.
Chalani Pivot - 1998 Adelaide Royal Reserve Champion led ASH mare, placegetter yearling class NSW Breeders Champs, Dubbo 1997, Junior Champion Led, 2yo Futurity winner.