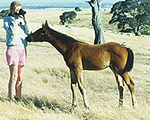 Reserve Champion ASH 1996 Royal Adelaide Show.
Sold to Noel Day of QLD in 2000.

We selected PAPER MAN for his outstanding nature. He is totally 'people friendly' and has been since the day he was born. Always gentle, relaxed and affectionate. As a two year old, he was even ridden in company in only a halter when his rider forgot the bridle.

Paper Man has the true athletic bloodlines to make a significant contribution to the breed. Paper Man's sire Fintona Artist is one of the youngest grandsons of Chan (by Radium) available at stud today. Artist was shown and campdrafted under saddle in the South East of SA by Colin Byron with success. He is one of the youngest grandsons of Chan (by Radium) available at stud today. Artist's dam was a polo bred Thoroughbred by the well known Dunwell Tudor Tinker (imp). In a short career Artist sired Royal, Futurity, open hack winners and good polo ponies, before moving into the ownership of Col Byron. Artist stood at Chalani for five years and was sold only to make way for Paper Man to stand at stud.

Paper Man's dam Chalani Paper Tiger, the state's leading sprint race horse of her year, has an unparalleled temperament and is one of the most highly regarded broodmares ever at Chalani.

Paper Tiger is the dam of thirteen foals including:

Chalani Paper Lace - Royal Show and eventing winner, Futurity/Maturity winner.
Chalani Paper Note - 1996 ASH Yearling Futurity winner
Chalani Paper Boy - Outstanding W.A performer and sire, now in Vic.

Paper Man's grand-dam Chalani Cat Ballou (dam of 16 foals) is on the ASH Society's 'Wall of Renown' in recognition of her contribution to the Australian Stock Horse breed.

Paper Man has strong bone, refined and correct legs, excellent conformation, with light and smooth action.

His foals are outstanding and include:

Chalani Pivot - Reserve Champion Led Mare Adelaide Royal

Chalani Wild One – Member of the winning 2000 State PC 'Teams on the Flat' and multiple ODE winner

Myarra Sirius – Winner 2yo gelding Melbourne Summer Royal 01.