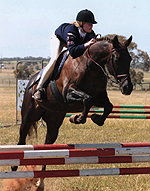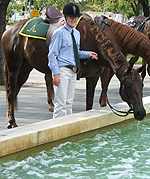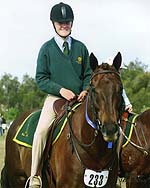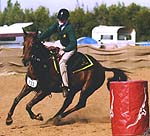 Apollo was sold to Chari-lee Hoad as a 3yo when Chari-lee was 10 years old. Together they have forged a most successful relationship, winning in ASH competition, eventing, show jumping, dressage and Pony Club, including at National level. They have also tried their hand at polocrosse training, Australia Day parades and sheep mustering.

Results include:

Australian Stock Horse National Show - Camden NSW 2007
High Point Youth Horse and Rider of the show - winning a saddle!
Plus - ASH National Show winners of:

Youth dressage - 1st Preliminary and Novice
Challenge u 13 yrs - 1st Challenge Hack, 2nd Challenge Working,
3rd Overall Challenge
Youth 10 & u 13 yrs - 1st Station Horse, 2nd Hack, 3rd Working.
High Point Awards:
Multiple SA Central Branch High Point show Youth High Point winner.

SA Central Branch Rannock Trophy (ridden), Lochinvar (overall gelding) and Sweet Zem (Youth) trophy winner on multiple occasions.

Winner of Director's Trophy Awards (National ASH High Point Youth Score) over a number of years.

SA Interschool "Showman" winner 2011 (multiple phase with overall score).

Dressage:
SA State Championships Elementary Junior Dressage Champion 2011
Highest percentage ASH Junior Horse Dressage Championships 2011 & at Spring Championships 2010.
Best ANSA SA State Dressage Championships 2011
Equestrian Australia SA State Dressage Junior Squad member
1st Junior Novice Adelaide Royal Show 2009
Winner in Official Medium Junior dressage competitions

Show Wins:
Reserve Champion Ridden ASH Adelaide Royal Show 2009
1st ASH Hack Adelaide Royal Show 2009
Placegetter in Hack, Working, Station Mount, ASHLA and Stockman's Turnout at Adelaide Royal over several years.

The Hoad family state that Apollo has a home with them for life, and they could not wish for a better horse, being "blessed" to own him.



Photo by Ma Scar