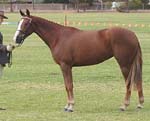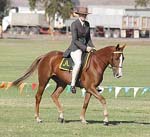 A mare of outstanding conformation and excellent stock horse type, Chalani Chipper was Champion Led ASH at Adelaide Royal Show 2006. She also won the Station Horse and was second in the ASHLA and Working ASH. Chipper has been sparingly shown for Futurity/Maturity places, Supreme Ridden ASH and hack and working wins at SA Central Branch High Point shows.

Educated to haunch turns, flying changes, opening and shutting gates, stock whip and going over small jumps, in addition to flat work training. Chipper was loaned to a 70yo gent who used her as a general farm horse. She was also used safely by novice rider Andy Ide to learn on.

Chipper is now owned by Vicki McInnes who has done Riding Club and trail rides with her.