Towitta Daiquiri is a chestnut pinto Heritage Stock Horse galloway mare. She carries some well known old ASH and TB bloodlines (there are a number of low ASH registration numbers attached to horses appearing in her pedigree). They were often used for mustering stock/farm work and popular with many in ASH circles.

Daiquiri was bred by the Best family of Mudgee. Mary Best bought her sire Towitta Bailey as a youngster. Annie Best reports that Bailey is very quiet & easy to do things with. Mary Best used Bailey on her property on & off, stating he is great on cattle. He was lightly shown with only a few starts in drafts with no issues. The majority of his foals have great temperaments and many of his progeny are ridden by children from a young age, being smart on cattle & very eager to learn. He stands about 14.3hh.

Daiquiri's dam Midland Tara was bred by Alex Braid from Cumnock. Shortly after she was broken in, Mary Best bought her through Alex Braid's clearing sale. She was used as a broodmare by Mary and bred several foals, Towitta Daiquiri, Shiraz, Schnapp and Toblerone.

Second owner of Daiquiri Fiona Large says: "I bought Dee [Daiquiri] when she was a 3yo, unbroken and unhandled from Mary Best. I broke her in myself and during the time I was riding her I was just mainly trail riding and mustering cows. She had good cow sense and seemed to really enjoy the cattle work. I never showed her. She never had any dirt in her. She was a forward moving mare to ride. Sadly I have only one picture of me riding her, and that was in the first week of her being broken in."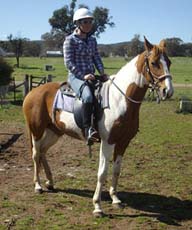 Fiona bred two foals from Daiquiri. "Dee's first filly foal was called Garnet. She was by a stallion called "Jayay Take That" He was a Arab x Welsh. I already owned a gelding by him who had a fantastic temperament, so that is why I chose to use him. Garnet was a lovey quiet pinto filly. I sold her as a weanling. Her second foal was a solid colour filly by Ophir Imprint that I also sold. I haven't kept in contact with the owners of the foals."

Daiquiri was purchased by Chalani in April 2017, with a 6 week old pinto colt foal at foot, Coleslea Radiant (by Coleslea Shadow) from Diana Martyka.

Diana bred two other foals from Daiquiri, fillies Coleslea Gemmi (2014 chestnut) and Coleslea Shimmer (2015 black pinto). Diana said Gemmi broke in well, no buck and very quiet, good with trucks and riding up the road.

In Spring of 2017, Kim Ide did a few rides on Daiquiri, to test out what she was like to ride, Chalani ASH preferring to have ridden all of their broodmares where possible. Daiquiri was willing and forward, no buck after her long time from being ridden, although very green in an education sense.