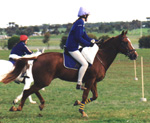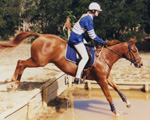 A well known versatile mare, multi-champion led and under saddle, Paper Lace is noted for her outstanding extended trot. She is one of the few horses in the S.A. ASH Branch history to have won all three major events, namely the Yearling Futurity 1992, Ridden Futurity 1994, and Ridden Maturity 1995.

In 1995 Paper Lace won led ASH mare at Adelaide Royal as well as competing in four ridden events in which she won or placed.

Paper Lace is also a successful eventer, very steady, safe and bold across country. She has represented her Pony Club at State Championship level on four occasions, winning 'Teams on the Flat' in 2000 and 1st, 2nd and 3rd in Team and Individual showjumping in 1996 and 2000. She has won Monarto Horse and Rider of the Year at Zone Eliminations, twice won 'Teams on the Flat' and competed in the Mounted Games, placing 2nd overall in 2000.

She received an ASH Director's Trophy for High Point eventer of Australia 1996, and completed her ASH All-Round versatility award (1000 Points). In 1997 she was pointed into Grade 1 eventing following a win at Monarto ODE.