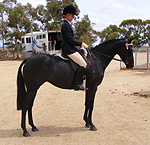 Denim is proving a quality hack with wins at Ag and ASH shows with owner Eva Cummings.

A few 2008 results:

Burra Ag Show - Lightweight Hack and Reserve Champion Hack.

Owner Eva Cummings reports "She is still very green, but was beautifully behaved which is all that matters to me."
Denim then won at Clare Ag Show in the Hack 15-15.2hh and Hack 15-16hh.
Eva says "Well, Denim did it once again!! We went to Clare not expecting to get anything. I didn't even warm her up, I just took her straight in the ring and trotted around for a minute or so waiting for the class to start. She obviously doesn't need it. I also only rode once between Burra and Clare show due to work too. I don't know how many people can say, that they can take their 5yo horse out, that has been only shown 4 times under saddle, and not even have to work them down, let alone get wins at every show! She is already qualified for 2009 Royal in 2 shows!! Showing now is far less stressful and I'm really enjoying having a horse that will got out and work the same out, as she does at home, no more hot TB's for me!!

So thank you so much for breeding my absolute perfect dream horse for me. Despite the last year of having some difficulties, she has been well worth the work and persistance without hesitation. I always wanted a black mare to hack about 15.2hh, even though we expected [her] to grow over, she didn't. I never expected to get a horse to have everything I wanted and more, a mare with the colour, the conformation, the right height, most importantly, the temperament! She really is lovely to ride, so soft and uncomplicated, natural balance and self carriage, no fizz. Rarely do you ever get such beautiful horses that will work and be reliable out also."