NEWS 2009
Archived News:
News 2011
News 2010
News 2008
News 2007
---
Featured Horse:

Chalani Triton

Triton was purchased by Duncan Crichton as a rising 2yo. He is from Chalani Aurora by Splashdance and a full brother to Auster and half brother to Apollo. Here is what the Crichtons have to say about Triton:

Triton is an absolute delight. Duncan is having so much fun on him. He has developed into a beautiful boy. He has shown lots of ability in all areas as well as being very bold and cheeky (he likes to round up our sheep and dogs). We have done some minor events and he turns heads wherever we go. Gill Rolton broke him in as a 2 year old and has since given Duncan some dressage lessons. She is very impressed with him both for future ability as well as overall looks.

After he was broken in, he was ridden lightly doing dressage lessons with Pat Hutchens and Gill Rolton for the next 12 months with long rests periodically throughout the first year of work. As a three year old he competed at Adelaide Hills Dressage Club in the walk/trot test and finished second with a 60.7%, first time in an arena! As a four year he continued dressage lessons and pony club including going to pony club camp and tentpegging.

During 2008 he competed and completed two Grade 4 ODEs and then moved to Grade 3 where he placed 5th at Monarto Horse Trials in September and 4th at Mountain Pony Club ODE in October. They were Reserve Champion Horse and Rider at the Equestrian Interschool May 2008 at Gawler. This year Duncan is concentrating on dressage, doing fortnightly lessons with Denise Rofe at Woodside and hopes to move to Grade 2 eventing by the end of this year. Triton is a very level headed, bold jumper and is making a fantastic event horse.

You couldn't have picked a better horse for Duncan, they are a great pair.

Photo by Jenny Barnes
---
Chalani Pacesetter sires Quilty winner!

The prestige Endurance ride, the Tom Quilty Gold Cup, held in QLD last year was won by China Doll and Meg Wade. They also won the Pat Slater cup for the best conditioned and the teams event. China Doll is sired by Chalani Pacesetter who has bred other successful endurance horses. China Doll was also 5th in the European championships in 2005 and has consistently been well performed.

Photography by Matt Bennet
---
4 Oct 2009
Southern Equestrian Show 2009

Chalani Jive
Jive had a super successful day at the huge All Breeds Show run by the Pinto Association of SA. She was Supreme Champion Led Pinto, Supreme Champion Led ASH, Supreme Paint and Reserve Champion ANSA.


---
6 October 2009
Another foal!

Chalani Pivot foaled a black filly by Chalani Nightdance. Named Chalani Skylark.


---
13 September 2009
New foal!

Chalani Aurora has foaled a brown filly by Chalani Nightdance. Named Chalani Maia.


---
4 September 2009
Royal Show Championship Success

Chalani Dance was the winner of the Champion ASH at Adelaide Royal Show (after winning a very strong Led ASH mare class). She placed 3rd in the Stockman's Turnout, 2nd in ASHLA and 5th in ASH Hack.

Chalani Apollo with Chari-lee Hoad was the winner of the ASH Junior Novice dressage (held 2 weeks prior to the 'official' start of the show). He was the ASH Hack winner, Best Junior ASHLA, 2nd Stockman's Turnout, 2nd Station Mount and 2nd Working ASH. He completed the day with Reserve Champion Ridden ASH.

Photo by Julie Paul

See the Horse Deals Gallery for more photos.
---
28 August 2009
Gawler Ag Show

A number of Splashdance progeny were at the Gawler Ag Show this year. On the Friday for the ASH classes, Chalani Triva and Chalani Dance attended. This was Trivia's first show outing and she came home with Champion Led Junior ASH. Chalani Suede was Reserve Champion to her (owned by the Hoad family).

Chalani Jarrah placed 2nd in his Led ASH gelding class.

Chalani Dance was the ASH Led mare class winner, then took out Champion Senior Led ASH and went on to win Grand Champion Led mare of All Breeds.

Chalani Apollo took out Champion Hack and Champion Working with Dance Reserve Champion Working.

The Sunday of Gawler Ag Show saw Chalani Jive compete in the Pinto classes for Supreme Led Pinto.
---
30 August 2009
Chalani Walkabout video

A short video of Chalani Walkabout under saddle has been uploaded, taken from his 5th ride. See Walkabout's page.


---
July 2009
High Point Awards

SA Central Branch High Point Awards
Chalani Apollo won the Rannock Trophy (for overall Branch Ridden High Point). He also won the High Point gelding and Chari-lee Hoad won the Sweet Zem Youth trophy.

Chalani Dance was winner of the First Season High Point trophy, runner up Rannock Trophy, Young Horse Trophy and ASHLA trophy.

State Management Council High Point Awards
HIGH POINT WINNER: Chalani Apollo
HIGH POINT RUNNER UP: Chalani Dance
FUTURITY/MATURITY: Chalani Dance
HACKING: Chalani Dance
LED: Hillbro Second Addition (by Chalani Chaparral)
WORKING: Chalani Apollo

---
21 June 2009
Chalani Triton

Chalani Triton won 1st in the PC Grade 2 at the Monarto PCASA ODE 2009.
Congratulations to owner/rider Duncan Crichton!
See a photo at Barnes Photography


---
12 June 2009
Sales

A short video of Chalani Walkabout and Melrose taken last year has been uploaded. See the Sales page.

Chalani Fortune (aka Bangles) has been sold to Adele Perkins (SA). Good luck with your return to the ASH ring Adele!
---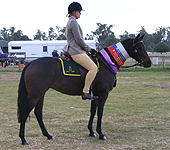 23 May 2009
ASH National Show

Chalani Dance and Kim Ide competed in the 3yo Futurity at the ASH National Show in Scone, NSW on the 23rd May. With 40 entries in the Futurity, comprising of Led, Hack, Working and Time Trial sections, Dance was placed 3rd overall in the Futurity Amateur rider with 2nd in the Amateur Led and 1st in the Amateur Hack. She finished 20th overall (open) with 7th in the led and just out of the placings in the hack.
---
23 May 2009
Mt Crawford Dressage

Chalani Apollo and Chari-Lee Hoad had two wins, competing in the Novice 2.3 (Junior) for 68.2% and the Elementary 3.3 (Junior) for 60.5%. In both classes they scored a higher percentage than the adults too. Well done!
Apollo and Chari-Lee have also been selected for the Pony Club National Championships to represent SA in the Junior Dressage Team. We wish them good luck in Sydney.
---
23 April 2009
For Lease

Chalani Silk (3yo) is available for lease to show/competition home only (no option to purchase). See Sales page for more details.
---
4 April 2009
Strathalbyn Hunt Club Show

Jive was Supreme Led Pinto and Champion Led ANSA (all ages) (pictured right, at APSB younstock show).
Dance was Reserve Champion led ANSA, Champion Led Junior ASH, Champion ASH Hack and Reserve Champion Working ASH.
Memphis Park Uno by Splashdance was 1st Led ASH colt/gelding under 4 years.
Hillbro Second Addition (by Chalani Chaparral) was Champion Led Senior ASH with younger full sister Hillbro Matisse Reserve Champion Junior Led ASH.
---
March 2009
Natimuk Show

Chalani Ballet with Alli James-Martin travelled across the SA / Vic border for good results, winning Reserve Champion Led Hack, Reserve Champion ASH Led & Reserve Champion Ridden ASH.
Congratulations!
---
22 March 2009
Adelaide Polo

A number of the Splashdance progeny bred to play polo are now old enough to be out competing. We are told they are very handy, useful and fast.
Chris Roberts has a string of ponies by Master Herbert who are played by her son Scott Roberts in A grade.

Andrew Gray is pictured on the Chalani Gyprock mare, Granite, that he bred himself (Andrew bred the popular and successful polo sire Littlewood Montego, also by Rannock).

Chalani Silk's sire Morella Montana Mac is the sire of Morella Kentucky Babe and the full brother to Chili Pepper, both palominos out playing polo. Chili Pepper has won numerous Champion Tournament Pony awards. See more polo photos.
---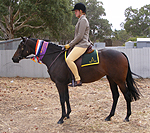 21 March 2009
Chalani Dance

Dance was Champion ASH Hack and Reserve Champion Working ASH at Mt Pleasant Ag Show.
---
March 2009
Chalani Catlow
Catlow is featured in the March/April ASH Journal with a two page spread titled "One in a Million" on page 56.
Read the article
Check out our sales page, if you would like to purchase a relative of Catlow and perhaps create your own "One in a Million"!
---
15 March 2009

APSB All Breeds Youngstock Show

Chalani took 4 horses to the Youngstock show in Gawler for 6 Champions!

Chalani Minerva - Champion ASH under 1yo.
Chalani Dance - Champion 3yo ASH and Champion 3yo ANSA.
Chalani Jive - Champion 2yo ANSA, Supreme Pinto & Reserve Champion 2yo ASH.
Chalani Silk - Champion Palomino and best body colour.

---
February 2009
Chalani Reveller & Lucy Boseley

Revel had a break for a while but went to his first show for the year and won Champion showjumping combination for the day. Lucy jumped 110cm for the first time and sailed through the course only just pulling 2 rails. She was so excited as she was really nervous about doing this height. We are having heaps of fun with him and the whole family love him to bits, he is such a character.
---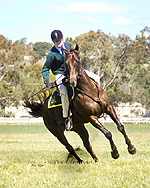 February 2009
Chalani Apollo & Chari-Lee Hoad

ASH National Youth Point Score - High Point Award winners

Congratulations to Chari-lee Hoad and Apollo in the age group 13yrs and under 18yrs.

Winner - Working
Runner up - Eventing
Runner up - Junior handler

Photo by Ma Scar
---
8 February 2009
SA State ASH Futurity/Maturity Show

1st 3yo Futurity - Chalani Dance (pictured far right)
2nd 2yo Filly Futurity - Chalani Jive (pictured right)
2nd 1yo Filly Futurity - Chalani Suede
2nd 6yo & over Maturity - Chalani Apollo
1st Mare Progeny Group - Chalani Aurora (Chalani Apollo and Chalani Auster)
2nd Stallion Progeny Group - Splashdance (Chalani Dance, Chalani Auster & Chalani Suede)
1st 1yo Filly Futurity - Memphis Park Newmarket (by Pacesetter grandson Memphis Park Memory)
2nd 5yo Futurity - Hillbro Second Addition (by Chalani Chaparral)
3rd 3yo Futurity - Mootyanggunya Resolute (Dam by Fintona Artist & Granddam a full sister to Chalani Charm)

Futurity Video:
Dance
Jive
---
January 2009
Volunteer Rider/Helpers required

An opportunity exists for a reliable and trustworthy person to learn about training, showing and competing quality young horses at the stud and at competitions. Find out more
---
Archived News:
News 2011
News 2010
News 2009
News 2008
News 2007