NEWS 2010
Archived News:
News 2009
News 2008
News 2007
---
Featured Horse:
Chalani Jarrah & Eva Rhodes

Chalani Jarrah is a 15.2hh bay gelding by Splashdance from Chalani Sheoak. He was broken in by Roslyn Day as a 2yo and then competed at a few shows as a 3yo with Kim Ide (nee Gower). He received favourable comments from several judges and competitors about his fantastic movement. Jarrah was 1st in his 3yo Futurity which was held at Lucindale Ag Show in 2005, judged by Jane Allen. He was also the ASH hack champion the same day.

Jarrah sold to a young girl to do showing and Pony Club. She had success with him at local shows and did Pony Club, flat work and some jumping with him. When she decided to dedicate herself to studies, Jarrah was sold to Eva Rhodes.

Eva spent some time caring for him after an injury, before she took him out in the hack ring. Jarrah has proven himself to be an easy going horse to work with and completed his first Royal at Adelaide in 2010, contending the open hack classes as well as the ASH led & hack. He made the task of Eva's first Royal an enjoyable one and looks set to continue on his winning ways.


---
---
5 December 2010
SA Dilutes Championships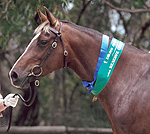 First time out for Leanne Megson (and her family cheer squad) who have leased Chalani Silk. They took out Grand Champion Palomino under Judge Leanne Owens from QLD. Nuniong Beebie (pictured) also attended and won Reserve Champion Silver (Taffy), not having been shown for 10 years!

---
22 October 2010
Passing of Nancy Gower


Nancy Gower, grandmother of Kim and Graham, great grandmother to Ashton, has passed away at the age of 89. Nancy was a well known riding school instructor at "Woodlands" in Echunga and taught many riders over many years to ride. She was a founding member of both the Adelaide Hills Dressage Club and the Sidesaddle Association of SA. She also dontated the Sweet Zem Youth High Point Perpetual Trophy for the ASH SA Central Branch of SA. Read More.

---
October 2010
Cavalier Sold

Chalani Cavalier has sold to Desma Santin to have a sensible young horse as an allrounder, including for dressage. We wish them luck.

---
4 October 2010
New Broodmare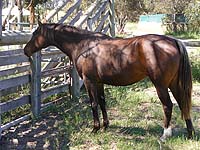 Chalani have purchased a new broodmare, the taffy Nuniong Beebie. Jeanette and Kim first saw Beebie as a yearling at the 2002 ASH National Show where she was placed 3rd in the Yearling Filly Futurity. Read more about Beebie.

---
1 October 2010
New Arrival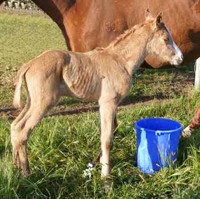 Yooroona Rapids foaled a palomino colt by Tintaras Chandra. Born at about 10.30pm on the 30th Sept, he has 3 socks and a blaze. He looks to be a strong fellow and has been named Chalani Sunstream.

---
---
22 September 2010
Ashton update

Ashton Ide had a photo shoot on father's day, with photos taken by "Granddad" (Peter Gower). At 4.5 months he has swapped his brown locks for blonde and has been sleeping through the night since about 10 weeks old. His lovely shoes were made by his Great Grandmother Nancy Gower. He is in the 97th percentile for height and the 90th percentile for weight.

Click on the image to see a larger version of the cute little man.

---
20 September 2010
New Arena!

After some great work by Mark Hoad and his collegue Eric, Chalani has an arena fence (see before and after photos). Also some small paddocks, a spiffy looking teasing rail, fencing and water trough maintenance was done. Many thanks to Mark and Eric.

Having never had an arena before and having struggled for a flat area (until moving to Monarto) it is rather an exciting event.



---
20 September 2010
New Foals

Mossroses Galica (by Chalani Mystic) foaled a black (going grey) colt by Chalani Nightdance at 9.30pm on 20th September 2010. He has been called Chalani Mawson and will be offered for sale.

Out on lease to Memphis Park Stud, Chalani Giselle foaled a black colt by Memphis Park Memory on 4/9/10, Memphis Park Nightwatchman.

---
11 September 2010
Royal Adelaide Show

Lovely weather and the best entries in the ASH classes the Adelaide Show has seen for a long while.
Placings for Chalani horses include:

Chalani Minerva & Kim Ide - 2nd ASH filly under 4 years.
Chalani Walkabout & Vanessa Clancy - 2nd Led ASH Gelding (pic right).
More Walkabout photos.
Chalani Suede & Chari-Lee Hoad - 3rd ASH filly under 4 years
Chalani Apollo & Chari-Lee Hoad - 1st Station Horse, 2nd ASH Hack & placings in ASHLA & Stockman's Turnout.

Special mention to Chalani Jarrah and Eva Rhodes who competed at their first Royal (a first time for both horse and rider) in the hack and ASH classes. Jarrah worked consistently well throughout the entire show and put on a great lengthened trot in the Led ASH gelding class (pic below right).

Walkabout had his first show class under saddle ever in the ASH Hack class and didn't put a foot wrong. Vanessa has only had Walkabout a few months and appears to be forming a great partnership with him (pic below left).

Other descendants of Chalani bred horses included Memphis Park Newmarket (1st Led ASH filly) and Hillbro Second Addition (3rd Led ASH mare).
---
5 September 2010
Whyalla Show

Congratulations to Chalani Walkabout and Vanessa Clancy on 1st place in the Led class at Whyalla Show.

---
23 August 2010
Adelaide Royal Show dressage
Chalani Apollo and Chari-Lee Hoad have success again! 2nd place in the Elementary and 6th in the Medium tests (all ages). Well done! We hope to load some video of the tests soon.
---
15 August 2010
Unfortunately Jive has injured a hind hoof and will be out of action for some months. She was entered for the Royal Show in the ASH classes, but will now be scratched. We still plan to take Minerva in her Led filly class.
---
11 July 2010
Congratulations to Chalani Apollo and Chari-Lee Hoad for their 2nd place in their first ever Medium Dressage test! Chari-Lee is still a junior rider and gained this placing amongst all ages. Apollo also won his last 2 Elementary tests the weekend prior!
---
10 May 2010
Splashdance returning to SA

Splash is returning to Monarto SA in Oct 2010 for the breeding season. He will continue to stand at stud in QLD for August and September.

Stud Fee: $850 (including deductible $350 booking fee)
Walk in-walk out fee: $750 (paid upfront)
Frozen semen: $750 (paid prior to shipping).

Vet fees extra. Free return for no live foal.

***2010 Special Offer***
Book your mare by August 15th and pay only $650! That's a saving of up to $200!
Must be paid in full by Aug 15th. Applicable to services in SA or frozen semen only.

---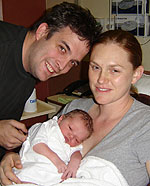 30 April 2010
It's A Boy!

Ashton Jack Ide arrived 3.54pm on 30th April 2010. He weighed in at 4.51kg and 53cms. He arrived 13 days late after being induced. Mum, dad and baby doing well.

---
28 March 2010
Youngstock Show

Chalani Skylark (pic right) had her debut showring appearance. She won Champion ASH foal, Supreme Any Other Breed (ANSA registered) and Champion Open Breeds foal.
Chalani Minerva was Supreme led ASH and Reserve Champion open breed filly (pic left).
---
28 February 2010
ASH SA State Futurity / Maturity show

Chalani Minerva was the winner of the Yearling Futurity. She was also the highest pointed led horse of the day, winning the Led Breeder's Certificate.

Photo by Kangra
---
14 February 2010
Murray Bridge All Breeds Show
Chalani Minerva's first show as a yearling saw her win the Champion Led Junior ASH over Chalani Jive Reserve, before being sashed the Supreme Led ASH. Chalani Jive then won the Supreme Led Pinto.
---

31 January 2010
Pinto State Championships

Chalani Jive took out the overall Supreme Led Pinto of the show. Competitors travelled from as far as WA to compete in very hot conditions at the Mallala Equestrian Centre.
---
23 January 2010
Sales
Chalani Poseidon
is being purchased by Kirra Burgess for dressage.
We hope to see them at shows before embarking on their dressage career.
---
1 January 2010
Stud news

2 filly foals only for the 2009 season, both will be retained by the stud.

Chalani Skylark (Chalani Nightdance x Chalani Pivot) (pictured top).
Chalani Maia (Chalani Nightdance x Chalani Aurora) (pictured bottom).

4 mares have tested in foal due from October 2010:

Yooroona Rapids (by Master Herbert) to Tintaras Chandra
Chalani Pivot (by Chalani Paper Man) to Chalani Nightdance (foal bred by Ashborn Park Stud)
Mossroses Galica (by Chalani Mystic) to Chalani Nightdance
Demjarlee Poppit (by Chalani Mystic) to Chalani Nightdance

Plus, if you haven't already heard the news, Kim and Andy Ide are expecting their first human child, due 17th April 2010.
---
The Chalani brand

Lazy K, one, two is the Chalani brand. It came about in the first year of the stud, just over 40 years ago. Jeanette's maiden name was Killmier. She chose it quite simply because of the K in Killmier, but that was not available, so she put it on its side, hence the 'lazy' part of the brand name. The brands department registered it with a curl on the K, so it was a nice little surprise when the registration came back.
Brands are now controlled by the agricultural department of each state (PIRSA in SA).

Most breed societies still require brands, due to some benefits of branding over microchipping:
You cannot see a microchip from outside the horse
You cannot read the number without a scanner
Branding enables you to describe a missing plain bay horse in a way that makes it possible to be sucessful when searching
Branding increases your presence in the market

A microchip is limited in its abilities as a serial number doesn't tell you who bred the horse or the owner's details without searching a number of databases. There is not one central database for animals (and people often forget to update their contact details).

Brands DO need to be registered with PIRSA and they are 3 digit brands. BUT you can get away with a symbol or other non standard brands under two exemptions - old brands that were "grandfathered" into the system and have been in continuous use and/or a stud brand...registered with a breed society, to be used only on your purebred stud stock. The ASH is considered a breed so we can use our brand on any of our horses.

In recent times we have used a freeze brand because it is more visible and therefore marketable - people know our brand.
---
1 January 2010
Chalani Dance

Chalani Dance has settled into her new home in Kyogle NSW with Liz Hodgson. After Liz and Cameron flew down to Adelaide and had a ride, they decided to buy the next day and within about 36 hours Dance had left on the transport truck! We wish them well in their plans to compete in ASH shows and competitions and their plans to breed from her down the track.


---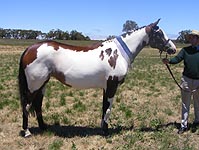 6th & 13th Dec 2009
Northern Hack and Halter & Breed O Rama shows 2009

Chalani Jive
Jive teamed up with Andy Ide to win the Supreme Led Pinto, Champion Junior Led ASH and 1st Junior Led ANSA at Northern Hack and Halter Show. Andy was pretty happy to win a lovely trophy cup for his Supreme Pinto award, despite his grumblings that a groom shouldn't need to be the primary horse exhibitor.

Breed O Rama saw Jive and Andy take out the Supreme Champion ASH, Supreme Champion ANSA and Reserve Champion Pinto mare. Their picture even made it to Horse Deals Gallery.


---
29 November 2009
Dilutes Australia SA State Championships

Chalani Silk was the winner of Supreme Champion Led Palomino of the show, held at Mt Pleasant. The State show, run by Dilutes Australia, was the 60th Anniversary show for the Australian Palomino Horse Breeders Association, which was taken over by Dilutes Australia some years ago. Silk has now gone on lease for trail riding over summer.
---
Archived News:
News 2011
News 2010
News 2009
News 2008
News 2007